SXL Virtual Private Servers (VPS) are built for small businesses who want their own server and data center but don't want to manage the infrastructure.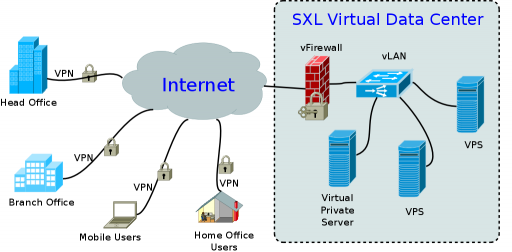 Price
| Plan | A | B | C | D | E |
| --- | --- | --- | --- | --- | --- |
| CPU Core | 1 | 2 | 2 | 4 | 8 |
| Memory | 512M | 1GB | 2GB | 4GB | 8GB |
| Storage | 50GB | 50GB | 100GB | 300GB | 600GB |
| Monthly fee | HKD200 | HKD350 | HKD500 | HKD1100 | HKD2200 |
What's our difference
Fast & Reliable Our server are located in a first class data centre in Hong Kong. All servers are enterprise grade hardware with Intel Xeon processors, ECC RAM, Enterprise HDD/SSD, Hardware SAS RAID with BBU.
Intranet mode (VDC) - We put your server on a private IP address space behind an NAT'ed network. This mode is recommended for Intranet, ERP, database, Windows server and other private applications. A dedicated pfSense router is provided for your own use. You can manage all firewall and NAT rules. The router also provide common infrastructure services, such as VPN, DNS, DHCP, etc.
Internet mode (VPS) - We put your server directly on public internet with a public static IP address. This is same setup as most other Cloud and VPS provider. This mode is recommended for Email server, Web server or other public applications.Customer is responsible to manage the server's firewall and security patches.
In SXL Cloud, there is no strange things such as EC2, S2, compute node or storage node. You don't need to modify your applications or learn anything new.
Our solution can be installed in your own company or hosted in SXL data center or hybrid.
Managed Solution
You have root and administrator password. You focus on managing your own applications. We support the infrastructure - including hardware, OS, network, firewall and VPN.
By using our cloud control panel. You can remotely start/stop your servers. Change disc in your DVD, boot install disc or recovery disc, backup/restore, etc.
We have extensive knowledge on Windows Server and Linux Server (Debian, Ubuntu, CentOS). We are able to provide technical support. (End-user support is not included but available at our regular fee).
Free Nightly Backup - We provide free nightly full-server (image) backup, keep for 3 days. You can use our web apps to backup or restore the server when necessary.
Technical Information
All VPS are based on Linux KVM technology.
Each CPU core is at least Xeon Nehalem 2.4Ghz.
Disks are local SAS 10K/15K disks with harware BBU.
Network 100Mb Local + 20Mb Overseas (shared), Unmetered.
Each VPS include 1 public IPv4 address
Options
| Options | Price |
| --- | --- |
| Add 1 CPU | HKD 100 |
| Add 512M RAM | HKD 50 |
| Add 50GB HDD | HKD 50 |
| Add 50GB SSD | HKD 250 |
| Add IPv4 address | HKD 200 |
Managed Service
We can provide installation and technical support service for the following systems/application.

Linux OS: Debian, Ubuntu, CentOS
Windows Server OS: 2003 - 2016
pfSense (Enterprise firewall)
ISPConfig (Hosting control panel, include Email/DNS/Web/Database)
Apache application server
Nginx application server
Screen shots
Our web based management console